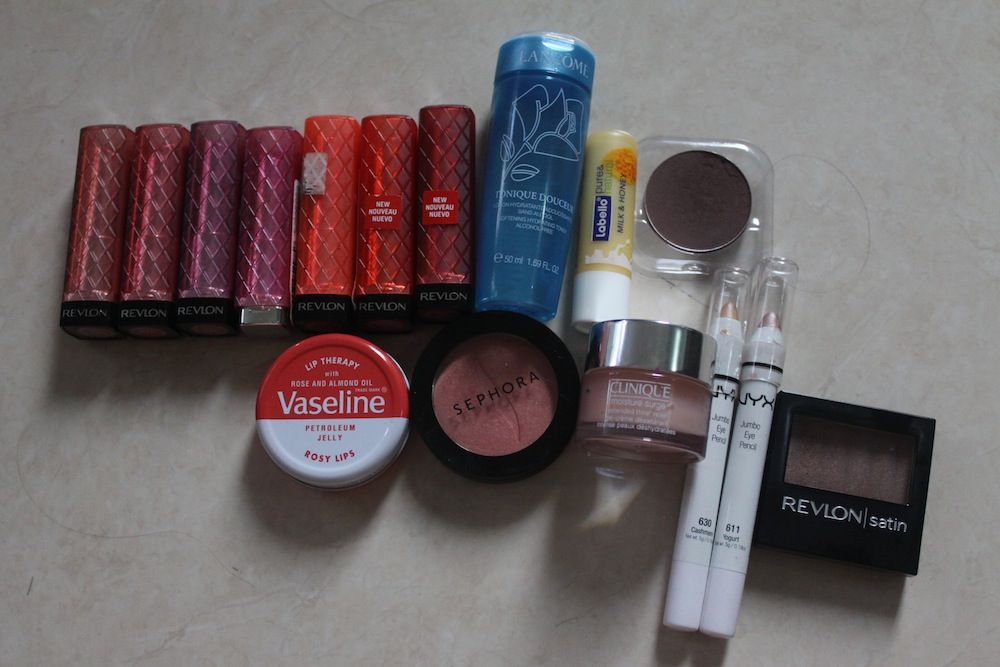 Top row: Revlon Lip Butters, Lancome's Tonique Douceur, LaBello Milk & Honey, PAC Matte Eyeshadow Single Refill in M. 07
Bottom row: Vaseline Lip Therapy Rosy Lips, Sephora Powder Blush in Coral Flush, Clinique Moisture Surge, NYX Jumbo Eye Pencils in Yogurt and Cashmere, Revlon Satin Eyeshadow in Nude Slip
I was playing around with my makeup yesterday and I realized how much I love these things. I can't decide a monthly favorite because it changes so fast and so often, haha.
I'm basically obsessed with Revlon's Lip Butters. I have 7! More on that below.
Tonique Douceur leaves my skin SO velvety smooth.
LaBello's lip balms are all equally awesome, but Milk & Honey smells soooooooo good.
PAC's a local label that is unexpectedly good, probably because they are used in theatrical productions etc. This matte shadow is amazing, pigmented, smooth, very blendable. An awesome crease color and brow-filler (because the legendary brown Viva brow pencil doesn't work on me)
This tin of Vaseline is cute, classic, and very moisturizing. Very sheer, doesn't do much at all in tinting my lips. But the moisture is great! I use this instead of the LaBello if I want a slight sheen, usually over my matte lipsticks.
One word: pretty. This blush is so natural, reminds me of NARS' infamous Orgasm, but it's kinda better, because Orgasm doesn't show up on me. The shimmer doesn't translate on my cheeks, just a lovely sheen. It's like instant beauty.
Every girl needs moisturesurge. Nuff said. (Hydrating, smooth, natural finish)
JEPs!!! Amazing as a base for shimmery shadows (my favorite kind of shadow) and stays all day as a waterline highlighter. Too bad it creases really badly when used on its own as an all-over color. Cashmere is gold-toned, Yogurt is pink-toned.
Awesome eyeshadow from Revlon! Just apply this all over your lid, add mascara, done! Brightens your eyes instantly without looking overdone.
Focus: Lip Butters!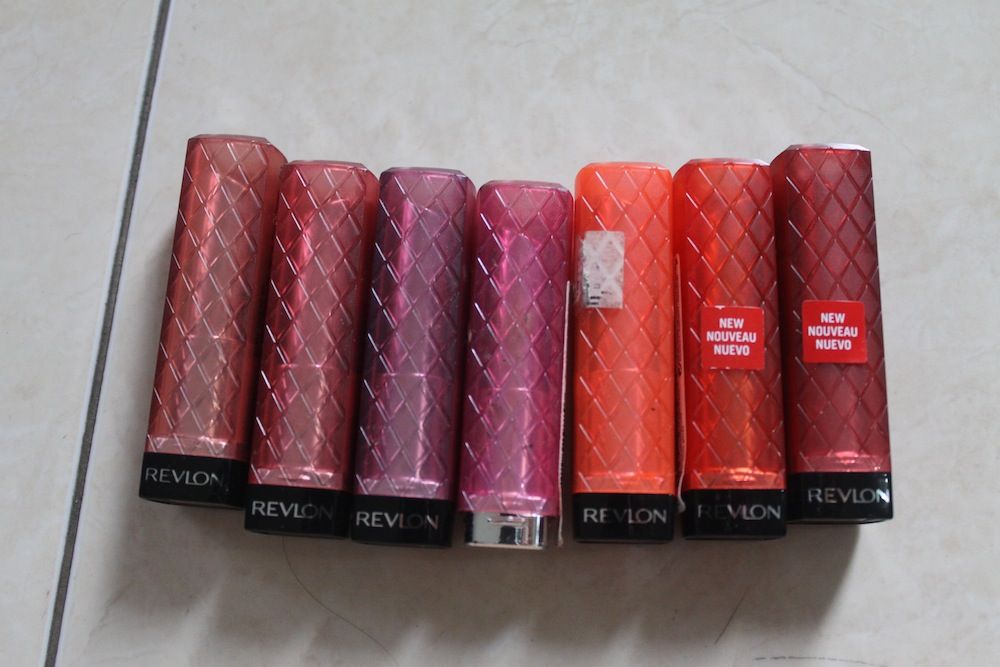 Moisturizing, looks natural, easy to use, comes in 20 colors, I love em so much.
From left:
Pink Truffle (MLBB color, a rose brown)
Macaroon (one of my faves, a brownish pink with gold shimmer)
Sugar Plum (sheer plum)
Lollipop (bright blue-based fuchsia with silver shimmer)
Tutti Frutti (orange)
Candy Apple (another favorite, sheer orange-red)
Red Velvet (an awesome sheer-ish brown-based red)
Next on my list? Raspberry Pie, Cherry Tart, Sweet Tart, Berry Smoothie!