Remember my so-called makeup collection back in February 2012? I actually realize how much my collection has grown because I posted this pic back then in this blog.
I said that was 75% of my collection. Whatttt, I only have like what, 20-30 items. And my lip products post!!
I almost cannot believe that there was a time when I only have around 10 lippies. Guess how many I have now?
Fifty-six.
Well, Attika is a full fledged makeup junkie now.
It's been almost a year from the time I posted those posts. A couple of weeks ago I just finished reorganizing my overflowing drawer, and took some picture to keep count of my stuff. My friends call me insane, hahaha. I deserve it. It's a hobby, something that I love and am passionate about. I just love talking about makeup. Ultimately, my take on makeup is makeup isn't supposed to cover or change what you have, it's all about enchancing your natural beauty. It's also insane that I used to abhor any kind of makeup, I don't even use sunscreen. That was when I was in junior high. And now, being 20 years old, I figure it's time for me to venture to the world that is beauty. And man, I was hooked.
I look up to my mother for skincare. She has amazing skin. She's about a shade or two fairer than me, which enables her to wear brighter pinks and paler corals. She insisted that I should have a working skincare routine by now. And now I am very comfortable with mine. Basically what I do is I rotate two scrubs, Neutrogena's blackhead control and Clinique's 7-day Scrub Cream. After gently scrubbing my face (which I do every other day), I wash my face with Clinique's Mild Liquid Facial Soap. Pat my face with a clean towel, and apply Lancome's Tonique Douceur. This toner works wonders. It smells really nice, and leaves my face with a hydrated, soft feel. At night, I don't put anymore moisturizer, but at daytime, I use Clinique's Moisture Surge (amazing stuff, dries down to a velvety matte finish) and my Erha sunscreen. I preach at my friends a lot about the importance of sunscreen, especially after studying dermatology for 6 weeks. I love dermatology. And then I finish with my powder/powder foundation of choice, which is either Revlon's Colorstay Aqua in Fair Medium or Clinique's Superpowder Double Face Makeup in Matte Beige.
The base is done, now, time for other lovely stuff!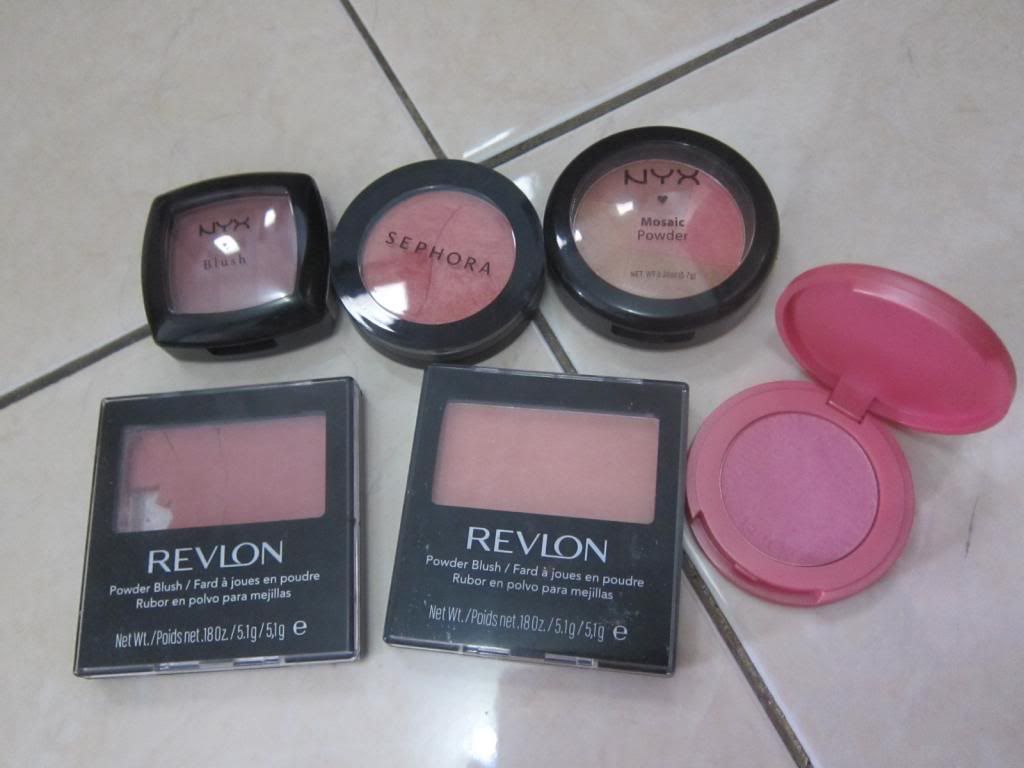 My blushes.
Clockwise from top left.
- NYX's Dusty Rose. This is a berry shade, very pigmented and finely milled. I love this, used lightly and blended out.
- Sephora's Powder Blush in Coral Flush. My favorite blush right now. It's a lovely coral shade with gold shimmer, looks very natural.
- NYX's Mosaic Powder in Dare. It has three bronzer shades and two blush shades, which swirled together creates a lovely peachy cheeks.
- Tarte's Amazonian Clay Blush in Dollface. This is a mini, because the full size is expensive and I just want to try one. This is as pretty as everyone else says, a perfect blush to go to class because it's not obvious and soft. I don't mind it being a mini at all, I won't finish a full size anyway.
- Revlon Powder Blushes in Pink Blush and Pink Peony. I love both of them, nice color, natural, cheap, blendable.
Not pictured is my recently acquired Tarte Cheek Stain in Flush. I'm in love with it! It's a cream/gel cheek stain, I just swipe it on my cheeks and blend with my fingers. It looks so natural and dewy. A definite staple for easy everyday looks for days you don't wanna try too hard.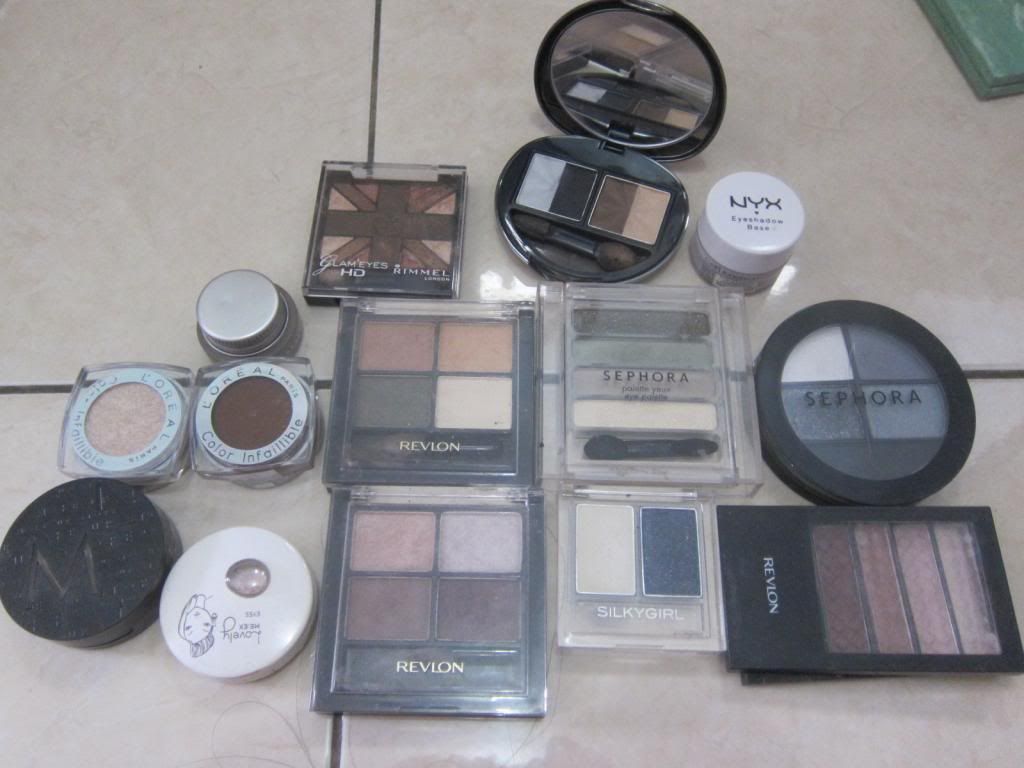 My eye stuff.
Not everything I own is in this picture I think, I just bought a new Revlon single eyeshadow in Nude Slip, which is the perfect lid color.
(from left, per row)
1st row (far left)
- Loreal Infallible in Hourglass Beige: oh God I love this, so so creamy and pigmented. Brightens my eyes amazingly.
- Make Up Store Microshadow in Old Gold: favorite gold shadow. Very pigmented and blendable, the color is a muted, darker gold which looks really good for a crease color with a bright gold on lid or matte beige.
2nd row
- Maybelline gel liner in black: great staying power, stays put on lid and tightline though sweat, tears, water, and the occasional rubbing.
- Loreal Infallible in Endless Chocolate: deep chocolate brown. Again, love.
- Lovely Meex single shadow: I don't know what the shade is, it's just a very shimmery silvery champagne color. I love the color, but this shadow has quite a bit of fall out.
3rd row
- Rimmel Glam'Eyes HD quad in English Oak: ehmagawwwdddd favorite quad ever. SO SO pigmented and smooth. The colors are all shimmery but dont make me look like a discoball. Works really well together, blendable. My only problem with this is the design, the smaller colors are hard to reach. Shame, because the copper is to die for.
- two Revlon wet/dry eyeshadow quads: these two are old, but are still great! I've never tried applying them wet, but works nice dry. The first one has a matte color that is perfect for the browbone.
4th row
- Missha quad: this is a gift from my Mom from Korea, they're actually quite nice, but I haven't used it much.
- Sephora quad: this is SO old. and useless. So chalky, powdery, not much pigment at all, a pain to apply. I'll probably throw this away soon.
- Silkygirl duo: I bought this when I was looking for a navy blue eyeshadow to match my prom dress, but didn't end up using it. Pigmentation is there, but it's a bit powdery. Not too bad for the price.
5th row:
- NYX eyeshadow base in white: nice, good staying power, prevents creasing and fading, but right now I stick to Benefit's Lemon-Aid or NYX Jumbo Eye Pencils as base. The JEPs are really good for shimmery shadows.
- Sephora palette in Smoky Black (I think that's the name of it): quite nice, bought it because I don't really have any grey or dark shadows. The black is great for lining.
- Revlon 12-hour Colorstay quad in Blushing Wine: I love this for everyday, it's kinda sheer, but the colors are really pretty. Very flimsy packaging though, I broke this one already.
More eye stuff.
(left to right)
- Maybelline the Falsies: the only mascara I've ever repurchased. Lengthens, gives volume without being too dramatic. Holds curl, amazingly waterproof, stays aaaaaall day.
- a mini Lancome Hypnose: great mascara, nice big brush, holds curl, waterproof, looks natural. Would love to purchase a full size but it's way out of my budget, obviously.
- Revlon Big Brush Mascara: I bought this one out of desperation, just got back from the US, I ran out of my old mascara (I think it was Maybelline's Define-A-Lash), I was at the Revlon counter, bought whatever they had. This one doesn't do anything to my lashes. Just coats them with black mascara, no length, no volume. Doesn't hold curl, sorta waterproof. Very wet formula, gets all over lid when applying.
- Maybelline Hypercurl Cat Eyes: whoa, drama! Volumizes, lengthens, so much, it's really awesome. It sometimes make my lashes stick together though, so I use a lash comb after applying this.
- Max Factor False Lash Effect: as dramatic as Cat Eyes, but wetter and looks more natural. I actually will like this better than Cat Eyes if this isn't so wet.
- a liquid eyeliner from Saudi Arabia: amazing. But the pen dries very quickly, now mine's unusable.
- my NYX JEPs!! One's missing though, Strawberry Milk. This is Rust, Yogurt, and Cashmere. Rust creases SO badly on me, even with primer and set with powder. Yogurt and Cashmere performs better, and are great as bases for shimmery shadows and for the waterline. Stays on all day!
- another random pencil khol from Arab
- Rimmel Eye Definer in gold: I never really use it, but good for waterline
- NYX Retractable: the color is teal I think, cute color but no staying power, smudges away in about 3 hours w/o primer.
- NYX Slide On in Brown Perfection: awesome, waterproof, smudgeproof, stays for about 8 hours before fading.
- Garnier eye roll: pretty refreshing, but doesn't do anything for my dark circles
- Topshop crayon in Sunshower and Whisper: my HGs for a long time, before they got discontinued. TEARS! The new version doesn't have Whisper, which breaks my heart, and needs to be sharpened. Sadface.
- Revlon pencil eyeliner: pretty good, average staying power, waterproof, smudges a tiny bit.
And now, behold.....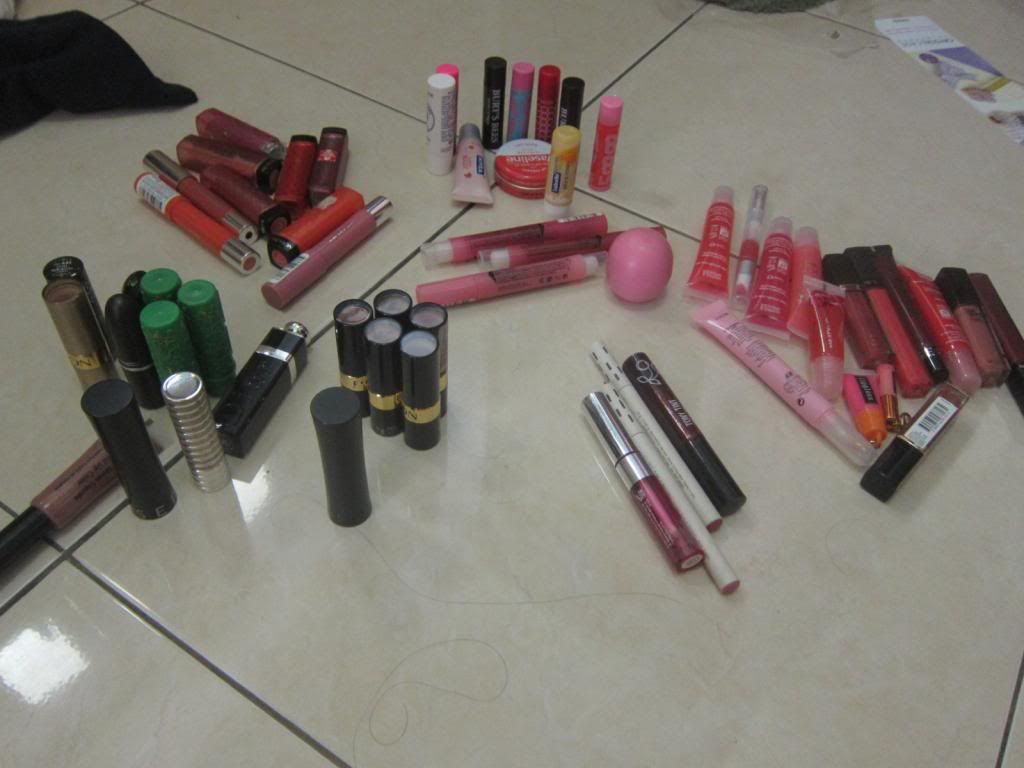 my lip stuff.
A bit crazy. I don't think I can write about every single one of them because I'll kill my fingers that way. Let's just write a little about 'em.
I have....
- 5 Revlon Super Lustrous Lipsticks
- 7 Revlon Lip Butters
- 2 Revlon Colorburst glosses
- 3 Revlon Super Lustrous glosses
- 2 Revlon Kissable Balm Stains
- 3 Rimmel 1000 Kisses Lip Stains
- and lots more, obviously.
Favorites:
- Favorite lipstick: Lip Butter in Macaroon (this changes a lot but right now it's Macaroon because of its versatility)
- Favorite red: MAC's Chili
- Favorite pink/berry: Revlon SL in Berry Rich
- Favorite nude: MAC's Fanfare (peachy), Revlon SL in Pink in The Afternoon (pinkish), Clinique's Creamy Nude (true nude)
- Favorite gloss: Revlon Colorburst in Bordeaux
- Favorite lip balm: LaBello Milk & Honey and Vaseline's Lip Therapy Rosy Lips
- Favorite lip stain: Topshop's Lip Marker in Popsicle and Rimmel's 1000 Kisses Stain in Plum Perfect
- Favorite lipstick formula: Dior Addict Extreme
Anyway I love blabbering about my collection but this post took me three days to finish, what? I just like doing these posts so maybe a year later I can look back and reminisce ;--)