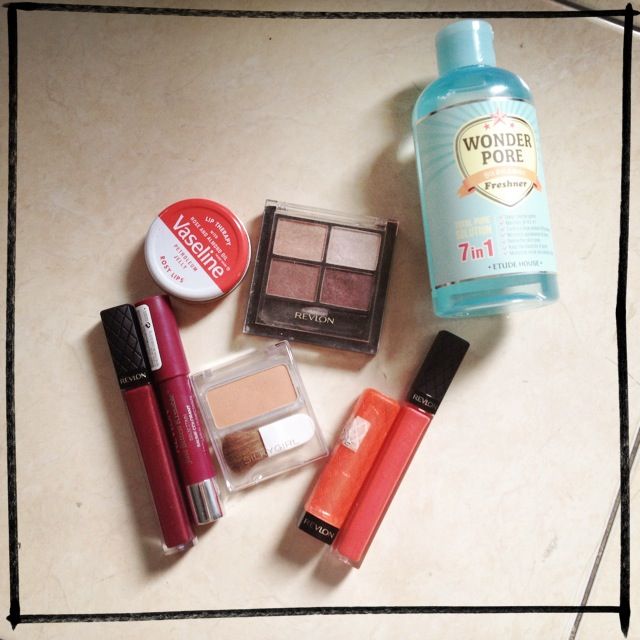 What I'm loving right now.
Top row:
- Vaseline's Lip Therapy in Rosy Lips: I love to layer this over matte lipsticks or any lipsticks at all, because it adds a healthy sheen that isn't too glossed up, and it's does a great job at moisturizing lips. Been using this every night before bed for supple lips the next morning. There's a noticable dent in it now and I'm proud of myself for sticking to it!
- Revlon's Wet/Dry Eyeshadow Quad. I have no idea what the shade is, the label has faded because this quad is pretty old. I just re discovered this beauty and I don't think I can live without it now! The top left color is an awesome all over lid color, and mixed with the top right, it makes a really pretty highlighter for my cheekbones. I use the bottom left for contour under my cheekbones, and the bottom right color is great for crease of smoking out the top colors. So versatile and lovely, it's a shame Revlon discontinued them a long time ago, replacing them with the sub-par 16 hours Colorstay quads.
- Etude's Wonder Pore Freshner. It's a toner that really does wonders. My pores looks smaller, my face is less oily and is smoother. Wonderful stuff!
Bottom row:
- Revlon's Colorburst Lipgloss in Bordeaux + Revlon's Kissable Balm Stain in Crush: perfect pair for a plummy lips. Bordeaux is my all time favorite gloss, and the balm stain has amazing formula. I like these better than the lip butters, which is saying a lot. They're a perfect match for each other!
- Silkygirl's Blush Hour in Honeywood: I love these cheap blushes!!!!! They're really cheap, cheaper than NYX, great pigmentation, excellent texture and blendability. Honeywood is the perfect everyday color, a warm orangey neutral. Staying power is so-so, about 4-5 hours. I'm definitely going to get some more of these babies.
- Revlon's Lip Butter in Tutti Frutti + Revlon's Colorburst Lipgloss in Papaya: such a pretty coral combination! These two are made for each other. Goes so well with Honeywood!
I wish I could wear something like Bordeaux for school hahaha