I figure this will be fun. And it is! Even though the makeup in my pouch rotates a lot, but I'm liking the one I have in this pic. Note that this isn't the pouch that I tote around daily, this is what I bring on daytrips or when I go out of town for a couple of days. Daily, I just bring a compact and lippies (usually more than two because I'm indecisive like that).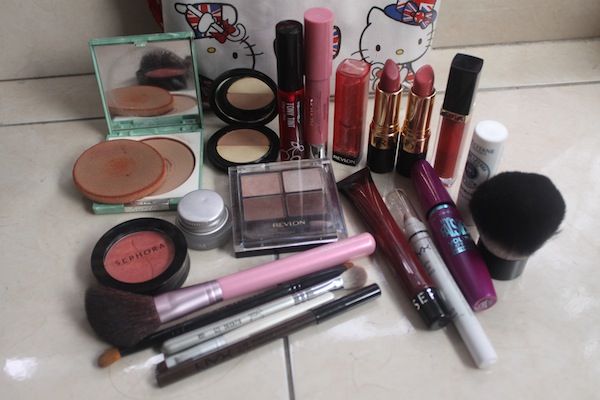 Super cute pouch, huh? A friend of my mom custom-made this for me. (I LOVE Hello Kitty).
So what's inside?
clinique superpowder double face makeup (I've repurchased this)
benefit boi-ing and lemon-aid duo (concealer and primer in one + a small mirror WHAAT)
tony moly cherry tint (I find that this tint really works on both lips & cheeks)
revlon balm stain in honey (looks MLBB but stains pink, yes!)
revlon lip butter in macaroon (favorite lippen nowadays, perfect brownish rose)
revlon super lustrous lipstick in berry rich
revlon super lustrous lipstick in pink in the afternoon (my perfect pinkish nude)
revlon super lustrous lipgloss in cherries in the glow
loccitane shea butter lip balm (moisturizing without being slippery and shiny)
elf kabuki brush
maybelline the falsies mascara (HG without a doubt)
nyx jumbo eye pencil in yogurt (for an eyeshadow base and waterline, awesome)
sephora glossy gloss in night out
revlon wet/dry shadow quad (the lightest shade can be used as a highlighter on my cheekbones!)
maybelline gel liner in black (this really stays on all day.)
sephora powder blush in coral flush
sasa angled blush brush
sephora shadow and smudge brush
sigma e25 travel size blending brush
sasa angled liner brush
nyx slide on eyeliner in brown perfection
Update: I now prefer my Tarte bamboo domed blush brush instead of the Sasa one ever since I bought this on FemaleDaily's Mini Beauty Sale for only 80k!!!! So soft and picks up pigment beautifully.